Volunteering with The Diabetes Group Isle of Wight
Being a volunteer means that you are offering something – something that is not required nor an obligation. … Most of the time, to volunteer means that you are working side by side with others. This connects you to other human beings as you are working toward a common goal. When you volunteer, you are making connections.
Diabetes Group IOW is a charitable organisation, supported by the Charity IOW Diabetes Fund. Our aim is to help the more than 9,000 diabetics on our Island. We need more volunteers to help us to get our message out to as many diabetics as we can. You do not need to be a diabetic to volunteer, just a desire to engage and help others. There are several areas of our work that need extra help.
The magazine, full of professional information, published twice a year needs to be distributed and maintained on display in every GP surgery, several locations at St. Mary's Hospital and some Pharmacies. We only expect volunteers to look after just their own GP surgery.
Throughout the year we hold drop-in meetings. These provide an opportunity to meet and discuss diabetes with a member of the Diabetes Group and others in three areas of the island, Newport, Ryde and Freshwater,. These meetings are valuable talks by diabetes professionals and provide an opportunity to learn and ask questions.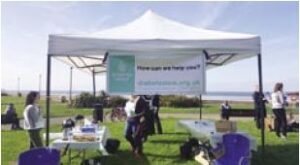 Events
Another area for help is the special events organized to cover different diabetes subjects by a professional speaker. These are held regularly at the Riverside Centre. We hold general events in different parts of the island.
Committee
We are asmall Committee of volunteers and we always look for new Committee members to bring new ideas to help meet our aims.
Charity Shop in Ventnor This very popular charity shop, run by The IOW Diabetes Fund, always welcomes volunteers to help out in this busy shop.
Diabetes Research
This valuable reseach into Type 2 diabetes, conducted by Dr Arun Baksi is looking for participants. (see page 22)
We look forward to hearing from you and joining the Group.