Salmon Patties
4 Ingredients Diabetes by Kim McCosker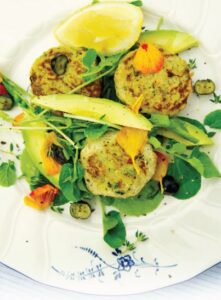 Serves 4
Ingredients:
2 eggs
1 x 130g Turnip, peeled and grated
2 x 150g Courgettes, grated
1 x 420g can pink salmon, drained and flaked
Method:
1. Into a large bowl, place all the ingredients and season with cracked pepper.
2. Stir well to combine.
3. Using damp or floured hands, roll the mixture into 12 patties.
4. Refrigerate for 20 minutes.
5. Preheat the oven to 180°C / 160 Fan / Gas Mark 4.
6. Line a baking tray with baking paper.
7. Place the patties on the prepared tray and bake until golden, about 25 minutes, turning halfway through.
Nutritonal infomation per serving:
Energy
214cal Total Fat 9.7g
Saturated Fat 2.8g Sodium
123mg Carbohydrate 2.9g
Fibre 1.4g
Wellness Tip
"Thank you Michelle Steffensen for introducing me to these delicious patties. I served them with a fresh garden salad, avocado slices, blueberries and a simple dressing of equal parts of olive oil and lemon juice with a smidgen of crushed garlic; everyone always asks me for the