Poached Eggs With English Muffins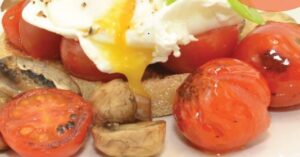 Serves 4
Ingredients:
250g cherry tomatoes
12 button mushrooms, sliced
4 eggs
4 wholemeal English muffins
Method:
1. Preheat the oven to 180°C.
2. Combine tomatoes and mushrooms in a pan, season with cracked pepper and dry roast for about 15 minutes or until the until the tomatoes have burst open and softened.
3. Meanwhile, fill a deep saucepan halfway with water and bring to a rapid boil.
4. Crack an egg into the water and with a spoon whirlpool  water around the egg to create an even oval shape. Cook until the whites become firm and the yolk is still soft to the touch, 2 to 3 minutes.
5. Meanwhile, slice and toast the muffins until lightly golden, then place on a plate.
6. Lift each egg from the water with a slotted spoon, allowing any excess water to drain back into the
pan. Top the muffins with the roasted vegetables and poached egg, season with cracked pepper to serve.
Nutritional Information Per
Serving: Energy 235cal Total Fat
7.1g Saturated Fat 1.7g Sodium
342.5mg Carbohydrate 24.4g Fibre
5.7g