Bang Bang Chicken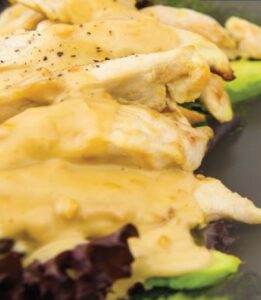 4 Ingredients Diabetes by
Kim McCosker
Serves 4
Ingredients:
180g mixed green salad leaves
500g boneless, skinless chicken breasts, cut into strips
¼ cup (60ml) sesame oil
½ cup (130g) crunchy peanut butter
Method:
1. Scatter the salad leaves onto a serving plate.
2. Sauté the chicken in the hot sesame oil for 2 to 3 minutes, turning until cooked.
3. Remove from the heat and set aside to cool slightly before placing on top of the salad.
4. Put the peanut butter and tablespoons water in a glass bowl and microwave in 30-second increments, stirring after each, until runny. Drizzle over the chicken and salad.
Nutritional Information Per Serving:
Energy 485cal Total Fat 32.8g
Saturated Fat 5.9g Sodium 250.3mg
Carbohydrate 5.3g Fibre 1.9g
Wellness Tip
The fats in nuts are the good unsaturated type, but very seldom can you buy peanut butter 100% made from
peanuts. When buying store bought peanut butter, be aware of what is added to make the paste. Select peanut butters made without palm oil or sugar for a healthier option. Serve this tasty main with cooked soba noodles tossed with fresh coriander.